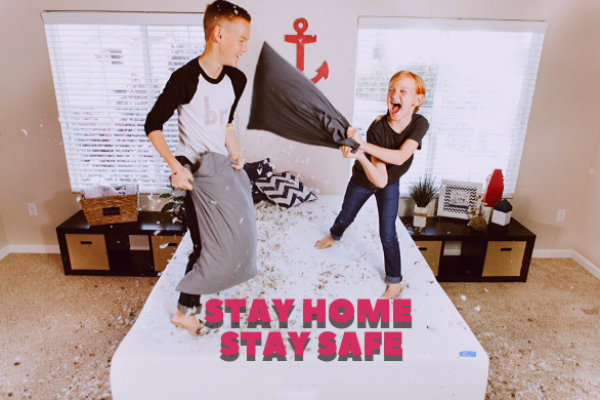 Staying home is not always an easy job and we understand it must be hard for parents to keep the kids entertained. On the other hand, this is the perfect time to spend as much quality time together as possible. Here are some tips on what to do while you are staying safe at home.
Keeping in touch while keeping the distance; There are many games that have been designed to play with the loved ones remotely. Most of them are free or have free trials or a limited number of players can play it for no charge. They are always great fun no matter how many people can play it. One of the most popular games at the moment is UNO Friends 2020.

Picnic at home; Using the living room or the balcony on a nice day to create the perfect picnic spot. All you need is to put down a blanket, get some games and prepare a quick meal. In case you had enough of cooking there are still great places open in town who are doing take away food.

Treasure hunt; Create an adventure full of questions and clues so the kids can solve a mystery. If you need help please click on the link to get a printable treasure hunt.

Build a fort; Building a fort together is always fun. For the base structure, you will need a few chairs and pillows, then you will need blankets for the roof and for comfort. Then add some fairy lights if you have at home if not flashlights are always a good option too. Lastly, provide some snacks and games for the kids.

Exercise challenge; To make sure that everyone is tired by night time it is always a great idea to join in a work out challenge. There are many videos about great challenges on YouTube. Also, Joe Wick, The Body Coach has been creating different workout routines for all age groups.
Never forget that while it's important to take care of your kids it's also important to take care of yourself. We truly hope these quick tips will ease your days and maybe give you a little more you time to relax.
< Back to all blogs